In Step with the Spirit
EGP Blog post from July 9, 2023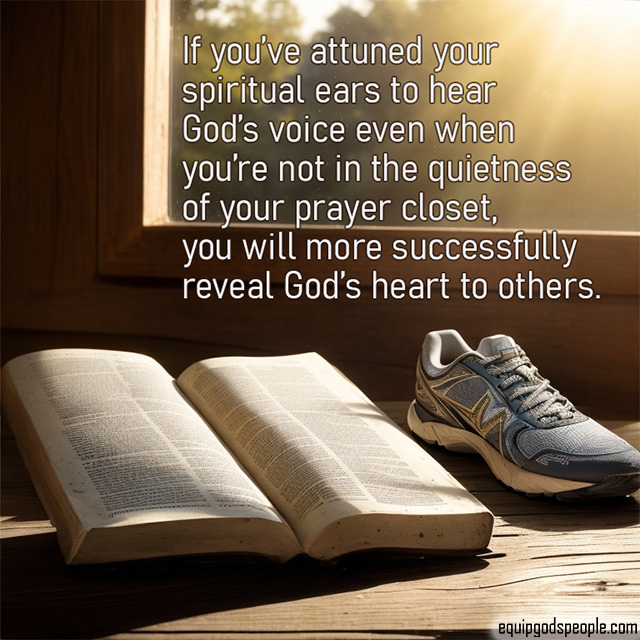 In our busy lives, we often overlook the potential for spiritual growth and connection with God in everyday activities, including exercise. While walking or running, we have the opportunity to not only improve our physical well-being but also to draw closer to God, hear His voice, and receive instruction from Him. Discover the hidden potential of exercise as a sacred encounter, where even a simple walk becomes an opportunity to deepen your relationship with God, sensitize your spiritual ears to His voice, and experience His presence.
Walking with God
Some people jokingly reference Proverbs 28:1, stating that "evil people run even though no one is chasing them." That's funny, but you can't deny how several key figures in the Bible were known for walking with God. People like Enoch (Genesis 5:22–24), Noah (Genesis 6:9), Abraham (Genesis 24:40), and arguably Adam and Eve (Genesis 3:8). So where does that leave us?
[17] So this I say, and affirm together with the Lord, that you walk no longer just as the Gentiles also walk, in the futility of their mind, [18] being darkened in their understanding, excluded° from the life of God because of the ignorance that is in them, because of the hardness of their heart;

Ephesians 4:18 Or alienated
While this passage may be talking more about a life journey, it applies to exercise as well. When spiritually lost people walk, they usually focus on their music, life events, or try to clear their minds. However, these pursuits are ultimately futile. Even as Christians, it is easy to throw on our shoes, put on some music, and go on autopilot as we grind through our workout.
But God wants to go on the run with you. We can use this time as an opportunity to connect with God through more traditional prayer, but also to seek His guidance. What direction? How fast? How far? He wants to guide you through your physical and spiritual training, and to reveal His heart to you on the journey!
Dually training body and spirit
[7] But reject profane and old wives' fables, and exercise yourself toward godliness. [8] For bodily exercise profits a little, but godliness is profitable for all things, having promise of the life that now is and of that which is to come. [9] This is a faithful saying and worthy of all acceptance.
This passage is often quoted to diminish the importance of physical training or to say that, "exercise as SOME value, not NO value." However, I think the point here is that all training (be it physical, mental, or otherwise) is an opportunity to train in godliness. Godliness isn't about following religious practices or conforming to some moral standard. It is the forming of a deep relationship with God, where you seek to please Him as a child seeks to please their parents. Obedience is important, but it's not merely abiding by outlined rules, rather it's a wholehearted pursuit of unity.
don't run for records or recognition
but in the place and pace that God leads you
Throughout the Bible, people would initially be in-step with God's heart, but over time, they became consumed by their own plans and desires. It's tempting to strut when God does things through us for a while, as we slowly shift our focus off of him and onto "our accomplishments." I've prayed many times that this wouldn't happen in my life. So, one of the things that God is teaching me is to not only hear His voice, but to hear Him above the noise.
So, if you're training merely for physical purposes, you will gain temporary benefits. However, learning to connect with God during your workouts brings eternal rewards! There will come a time when a higher stake situation will arise and the noise of the world will try to drown out the still, small voice of God. But if you've attuned your spiritual ears to hear God's voice even when you're not in the quietness of your prayer closet, you will more successfully reveal God's heart to others.
Where the rubber meets the road
Here are a few practical tips for your next exercise session:
Before starting, take a few moments to center your mind and heart on God. Offer a simple prayer, inviting His presence and guidance throughout your exercise session.
Instead of constantly playing music or podcasts, purposefully carve out periods of quietness to create space for God to speak to your heart.
Consider using Bible app that offers audio versions of Scripture. Listen to a passage or a devotional while you exercise, allowing the Word of God to fill your mind and nourish your spirit.
Instead of always aiming for one more rep, one more minute, or a new personal record (PR), pray that God will guide your direction and intensity.
Let's always keep in mind that it's not about relying on our own strength, endurance, or will. Instead, it's about depending on God's power and guidance, whatever the situation. This will lead us to a deeper connection with Him and enable us to experience His transformative work within us.